Six out of ten of Cypriots aged 25 to 34 hold a tertiary degree, the third highest rate in the EU and well above the bloc's target of 45% by 2030, according to figures published by Eurostat on Tuesday.
Tertiary education is becoming increasingly important in EU's labour market due to the increased demand for highly skilled and specialized individuals. Moreover, higher education is essential in a society as it fosters innovation, increases economic development and growth, and improves the well-being of citizens in general.
Towards that end, the EU has set the target of increasing the share of EU population aged 25-34 who have completed tertiary education to 45% by 2030.
According to Eurostat in 2021, 41% of EU's population aged 25-34 had completed tertiary education. In fact, almost half of the EU members have already met the 2030 goal with Luxembourg and Ireland topping the list, with a record of more than 60% of tertiary education attainment in ages between 25-34.
Cyprus, ranked third on the list, with 59%.
By contrast, the lowest shares were recorded in Romania (23%), Italy (28%) and Hungary (33%)
Additionally, the proportion of men with tertiary education has increased over the last ten years but at a slower pace than women.
According to Eurostat, there exists a slight gender gap as 47% of women aged 25-34 have attained tertiary education against 36% recorded for males.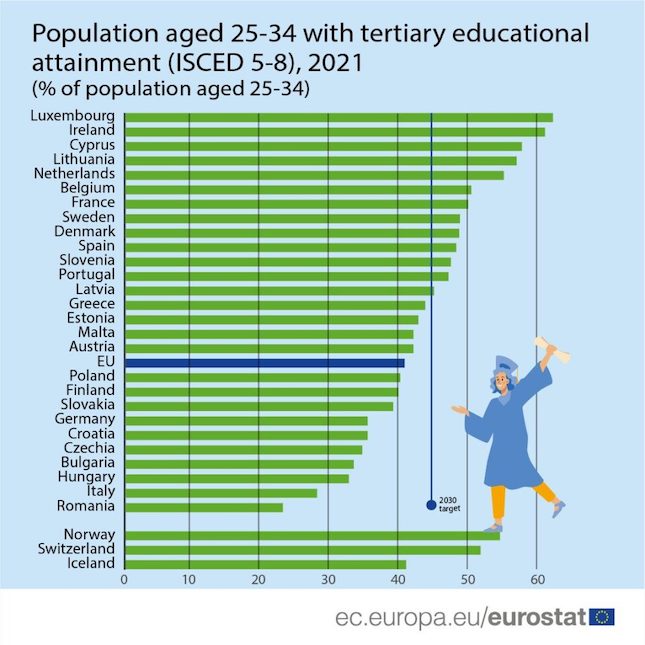 Source: Cyprus Mail