Efforts to upgrade and diversify Cyprus' tourism product have paid dividends as the country has seen record-breaking tourism figures and attracted millions in infrastructure and hotel investment over the last few years. Despite the current global clampdown on tourism, Cyprus opened up early after successfully containing its exposure to the coronavirus pandemic and launching industry incentives and support measures to welcome visitors.
Tourism has been one of Cyprus' top economic performers for decades, and the last five years have been record breaking in both the number of arrivals and revenue thanks to reforms and upgrades. In 2019 the country welcomed almost 4 million visitors with total revenue estimated at €2.7 billion, proving the long-standing appeal of Cyprus as a top European holiday destination.
Over the last few years, the country has focused on diversifying its traditional beach holiday image to show the world it has a lot more to offer than just the sun and sea. By extending its season with the aim to welcome tourists all year round, Cyprus is promoting its mild and green winters with snow-capped peaks and its other lesser known attractions such as forests and mountain regions, its wine country and agritourism, as well as its many historical and religious sites. Following global trends, a key part of the strategy is to develop and refine niche segments like health and wellness tourism, sports, nautical and cultural tourism, which all represent more diversified thematic areas that also foster investment opportunities in the tourism and hospitality sector.
As well as growing numbers of visitors, Cyprus has attracted millions in FDI into tourism-related projects. World-renowned hotel chains like Radisson and Sofitel are establishing themselves on the island, luxurious yacht marinas are beginning to spring up in every coastal region, and in 2021 Cyprus will be home to Europe's largest integrated casino resort led by entertainment giant Melco. Income from tourism accounts for more than 20% directly and indirectly of the country's GDP, but according to latest estimates the sector has the long-term potential to contribute around 25% to the country's economy – making tourism a key pillar of the economy with vast potential for further sustainable development.
Covid-19 Impact
Though Cyprus had high expectations for its tourism sector in 2020, its ambitions were cut short when the dangers surrounding the pandemic became truly evident. Cyprus acted swiftly, closing its borders as it prioritised the health of its citizens. With air traffic a fraction of what it used to be, the island managed to use its decisiveness to its favour. Hailed as one of the safest countries in the world in its handling of the pandemic, the government felt confident it would reap the rewards of its tough and fast measures.
By June 2020, when the borders reopened after almost three months of lockdown, travel agents had already classed the island as a safe destination with many countries eyeing Cyprus as a corona-free holiday haven. Meanwhile, Cyprus ensured only countries with similar epidemiological data could have flights to the island, thus balancing tourism and the overall health and safety of citizens, hospitality workers and visitors alike. The list of approved countries will be updated regularly based on how the coronavirus situation evolves.
The year started off well with an annual increase of 2% in tourist arrivals for the first two months, but a sharp drop was recorded in March 2020 due to the lockdown and entry ban. Cyprus has shown strong leadership in its handling of the pandemic, but it will be hard to judge what the long-term impact on tourism will be with so many other countries – and crucially countries like the UK that constitute key markets for Cyprus – still struggling to manage their infection rates.
Cyprus has had to revise its high expectations for 2020 and has set a new target of attracting at least 20-25% of the 2019 arrival figures, which translates to bringing roughly 0.8-1 million tourists. To achieve this target, the government has taken a proactive approach by targeting several European countries to promote Cyprus as an ideal travel destination this year. To secure its safe-haven status the government introduced rigorous travel and health protocols for anyone looking to visit the island. All these measures are constantly assessed and updated based on global developments.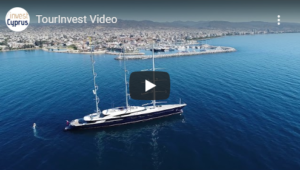 Support Measures and Incentives
With the harsh realities of the global pandemic continuing until the foreseeable future, Cyprus has sprung into action to support its tourism industry. In early June 2020, the country launched a new scheme to support aviation to stimulate passenger traffic by providing incentives for airlines to conduct flights even with low occupancy rates. The scheme, which will run for six months with a budget of €6.3 million, will see the government subsidising airlines based on their occupancy rate index, with sums to be pumped out for flights conducted with occupancy rates between 40% and 70%. The goal is to promote direct connectivity between Cyprus and other countries and motivate airlines to operate flights to the island until the end of the year.
In this new post-corona reality discounting is going to be the prime factor for people determining their choice of holiday destinations, and tourism experts predict the lower price tags will result in a significant increase in travel and tourism. With the Cyprus government subsidy assuring a large part of a flight's capacity, airlines would be able to offer substantial discounts to other passengers to fill up the plane. In addition, Cyprus reduced the value-added tax (VAT) rate for tourism accommodation and catering sector services from 9% to 5% for the period from July 1 to January 10, 2021, and the government is doubling its air and sea connectivity resources to €15.7 million by the end of the year.
Diverse Offering
Although Cyprus is rebranding its image, there is no doubt a key element of Cyprus' appeal remains its ideal weather of 340 days of sunshine and its pristine beaches – which are consistently ranked as some of the best in Europe for their high environmental and quality standards. Cyprus has 66 Blue Flag beaches and one Blue Flag Marina, renowned eco-labels awarded to beaches and marinas across the globe that meet specific standards. In 2019, Cyprus was lauded with the title of having the best bathing water quality in the EU, according to the European Commission and the European Environment Agency (EEA). Over the years, the island has consistently ranked at the top of this list for excellent water quality.
The Mediterranean lifestyle and expanding tourism offering of Cyprus have strengthened its status in the global tourism market as a destination of choice for travellers of all budgets – with accommodation ranging from rustic retreats and vast Airbnb options to bespoke hotels and luxury resorts. With further development of its niche segments, Cyprus is set to also attract a more diverse demographic of tourists interested in experiencing authentic island life and exploring the country's gastronomy and history. Cyprus boasts world-renowned archaeological sites, such as the ruins of the ancient city-kingdom of Kourion and the famous Paphos mosaics. In 2018, the Cyprus antiquities department announced that it would be collaborating with the Getty Conservation Institute in Los Angeles to look at better conservation management of the World Heritage sites of Nea Pafos and the Tombs of the Kings, and to find ways of improving the visitor experience at these sites – a move that has been welcomed by both tourism officials and tourists.
Cyprus has also long been a popular winter training venue for international sports groups and athletes, as well as a destination for various sports events, ranging from rallies to cycling and sailing. The island attracts thousands of athletes and hundreds of teams every year – mainly in the winter season – proving that this niche area of tourism still has considerable growth potential if developed properly. The country's Tourism Ministry has identified sports as an integral part of Cyprus' tourism product and is currently drafting new incentive schemes to attract more events, teams and athletes to the island. An estimated 50,000 divers visit the island each year, many attracted by the opportunity to discover one of the top five dive sites in the world, the Swedish cargo vessel Zenobia, which sank off the coast of Larnaca in 1980. The island is creating more artificial diving reefs off the coasts of major tourist areas across the island to attract more divers. In addition, golf tourism is growing steadily thanks to the island's year-round good weather and four 18-hole international standard courses and exceptional facilities.
Love and Wellbeing
Renowned as the mythical birthplace of Aphrodite, the goddess of love, Cyprus has become a popular destination for wedding tourism, which contributes up to €100 million a year to the economy. The number of destination weddings to Cyprus is around 8,000 per year, of which the majority are from the UK market, followed by neighbouring Israel and Lebanon. Russia, Poland, Ukraine and the UAE/MEA countries constitute growing markets and efforts are underway to also promote Cyprus as the ideal location for destination weddings and events not just to the above-mentioned existing and growing markets, but also to new markets such as India and the Far East. The growing appeal of tying the knot in Cyprus is largely due to the availability of civil marriages, making it an attractive wedding venue for mixed-faith and secular couples. Cyprus is also looking at opening new inroads into the billion-dollar global market of honeymoon tourism, renewal of vows, celebrations, romantic and special events.
Capitalising on its ideal climate and clean waters, health and wellbeing holidays to Cyprus are also on the rise. The recent creation of several exclusive spa retreats to pamper the visitor, as well as a number of large-scale projects open for investment in the fields of rehabilitation and other wellness services, have all driven interest in this niche area. The wellness segment has been identified as one of the key growth areas and FDI targets by the government. These plans are perfectly aligned with global trends, as the wellness market has seen tremendous growth of over 6% annually. Medical tourism is also experiencing some growth due to Cyprus' world-class reputation for high-quality private healthcare in a technologically advanced environment. Cosmetic surgery, diagnostic tests and fertility treatment top the list as the most popular procedures for medical tourists from the UK, Germany, the Netherlands, Middle East and Russia.
Expanding Connectivity
With continuous efforts to open new markets, connectivity is a key aspect of ensuring growth in this sector. In the long-term and in a bid to decrease its dependency on a handful of traditional markets, like the UK, Russia and Germany, Cyprus is focused on diversifying and opening new markets, such as the Middle East and other central and northern European countries. Another target is to attract visitors from long-distance destinations such as the US, Canada, Korea, Japan and China, who are likely to travel in the wider region visiting more than one country during their holiday.
Over 80 airlines fly from Cyprus to around 40 countries and 120 destinations, and the two international airports handle around 11 million passengers annually. Cyprus has managed to improve its connectivity to the rest of Europe even amidst the corona crisis with Hungary's Wizz Air announcing its plans to make Larnaca its 28th base from July 2020 and to launch 11 new destinations to seven European countries from Larnaca. Stationing two Airbus A320 aircraft will provide one million seats on sale from Larnaca this year, underlining the fact that the airline sees the potential and the demand for low-cost travel in Cyprus as a rapidly developing tourist destination.
Ideal Port of Call & Homeporting Hub
Prior to the pandemic, Cyprus was gaining a steady momentum in reviving its status as an attractive port of call for cruise ships exploring the Eastern Mediterranean region. Evidence of this was the fact that cruise line companies have been increasing the capacity and frequency of their calls to the island and Cyprus has regained its position in their East Med itinerary planning. Moreover, a British operator TUI (Marella Cruises) has implemented its winter 2020 plans for homeporting from Limassol Port to 13 destinations, a factor which has contributed to the boost of tourism numbers. Although many of the cruises follow the familiar Mediterranean formula, more exotic routes were also launched such as a sail from Barbados to Limassol. To strengthen Cyprus' maritime tourism, a new passenger terminal was inaugurated in 2018 by port operator DP World Limassol, with plans to increase passenger traffic of the port by 35%. Naturally, the coronavirus pandemic has grounded cruise liner traffic to a halt and expectations are that cruise visits will not resume before 2021. Of the 123 cruise ship arrivals that were expected in 2020 to the Ports of Limassol, Paphos and Larnaca, more than half have been cancelled or rescheduled for the end of the year.
Despite the current difficulties in the cruise sector, the decision of a leading international cruise company to anchor its liners in Cyprus has come as a welcome boost. Six advanced passenger ships of cruise operator Carnival are laying up with crew on board in Moni anchorage, east of Limassol, for the duration of the Covid-19 imposed restrictions that have halted cruises worldwide. The ships include Bahamas-flagged Seabourn Encore and the brand-new Sky Princess flying the Bermuda flag. This followed an official announcement by the Cyprus shipping authorities in May offering facilities for cruise ships to dock in its ports for refuelling, with operators and shipowners also allowed to bring their vessels to the island for a 'hot lay-up', which means the vessel is idle but can be mobilised back into service at short notice. The decision by Carnival presents significant financial benefits for the country, and other cruise operators have also expressed an interest to follow suit.
Focus on the Future
Cyprus is actively targeting new markets and reassessing existing ones with a sharp focus on creating a richer holiday experience emphasising culture, nature and indigenous heritage. The country has honed a high-quality hospitality industry which has been reinforced by the fact that for decades tourism has consistently been one of the most formidable economic sectors. Current efforts to upgrade the country's image and further develop various niche areas, such as rural, health and wellbeing, maritime, cultural, conference, sports and wedding tourism, are paving the way towards a more sustainable future. And these efforts have not gone unnoticed beyond its borders. FDI has been pouring in over the last five years with foreign investors closing multimillion-euro deals – cementing the fact that tourism-related real estate and infrastructure continues to be one of the most attractive investment opportunities in Cyprus. Due to the interest, the country's investment promotion authority Invest Cyprus has set up a dedicated and specialised unit, TourInvest, to promote investment opportunities in the tourism and hospitality sector. In cooperation with the Deputy Ministry of Tourism and other stakeholders, the unit focuses on attracting multi-million investment into large-scale infrastructure projects that exist in diversified thematic areas.
Cyprus' vision is to reposition itself in the global holiday market to provide a more diversified and ultimately more sustainable product. The new 2030 National Strategy for Tourism – which represents the most comprehensive restructuring of the sector since 1960 – is certain to bring profound results in diversification and to keep the sector on its growth trajectory for the next decades. The goal is to reach 5.15 million visitor arrivals and 4.4 billion euros revenue from tourism (including domestic tourism). Additionally, the strategy aims to improve seasonality and the regional distribution of tourists, with the objective of reaching 39% of overnights during November-April and tripling overnights in rural areas, by 2030. As the current global pandemic crisis has revealed, external shocks can cause severe delays in plans, but Cyprus has proven its resilience and ability to adapt and is well placed to achieve its targets and turn its vision into a reality.
For more information, contact Cyprus' investment promotion agency, Invest Cyprus.
All rights reserved. The material on this site may not be reproduced, distributed, transmitted, cached, or otherwise used, except with the prior written permission of The Profiler Group.