Cyprus tourism has been on a winning streak for four consecutive years, breaking historic records in both arrivals and revenue. Millions have been invested in upgrading tourism-related infrastructure and hotels, and in promoting the island as a year-round destination. These efforts are attracting more interest from visitors and investors alike, but with stiff competition and source markets struggling with their own economies, Cyprus will have to step up its game in 2019.
The last four years have been a triumph for Cyprus tourism, with each year breaking past records. The 2018 figures for tourist arrivals – just shy of four million over the course of the year – were the highest ever recorded in the island's history, and also represented a 7.8% increase compared to the previous year. The allure of the Mediterranean island as a top European holiday spot has remained strong, and the country's strategy to diversify and continuously upgrade its offering has been a key priority to ensure the sector's status as an economic outperformer.
Work to extend Cyprus' tourist season and transform its image from a beach hot spot to a year-round destination has been in full swing for some time now, and it is starting to pay dividends. Winter tourism has been on a steady rise over the last few years, and since 2013 arrivals have doubled. Along with its already popular coastal tourism, the promotion of niche segments such as sports and wellness tourism, as well as highlighting different regions like the island's mountains and wine country, have all aided in boosting fresh interest in Cyprus. With this holistic approach and by tapping into the more 'undiscovered' assets of its tourism product, the sector is set to grow further. Income from tourism accounts for more that 15% of the country's GDP, but according to latest estimates the sector has the long-term potential to contribute around 25% to the country's economy.
Establishing a junior ministry dedicated solely to tourism, and led by a new Deputy Minister, was an important step by the government in 2019 to ensure strong focus on further developing the sector. A key goal for the new ministry is to implement the 2030 National Strategy for Tourism and to launch a full rebranding of Cyprus as a destination in time for the Berlin 2020 tourism exhibition.
Big Plans
The implementation of the new national tourism strategy is the most comprehensive restructuring of the sector since 1960 and is geared towards opening new markets and further developing special interest tourism to tackle issues of seasonality. The ultimate goal is to double visitor arrivals, triple tourist revenue, create 47,000 better-paying jobs and attract €20 billion in new investment to Cyprus by 2030. It may sound like a tall order, but when you consider the target to reach 6 million tourists by 2030 and that the island already saw close to 4 million tourists last year with €2.7 billion in revenue, Cyprus could well reach its original target ahead of schedule. Tourism arrivals were up, and also revenue increased by 3.1% in January 2019 compared to 2018, jump starting the year with heathy expectations.
The hotel industry has seen large new investments across the island and many existing establishments have undergone upgrades and renovations to address the exacting demands of tourists from around the world. Luxury marinas, such as the Ayia Napa and Paralimni Marinas, with multi-use spaces and leisure facilities are being developed in coastal cities to rival the already successful Limassol Marina, and the addition of Cyprus' first casino resort which will be operational in 2021 are set to boost visitor numbers. The €550-million casino, developed by Hong Kong gaming and hospitality giant Melco, promises to be the standard of its Las Vegas counterparts and will broaden the scope of Cyprus' tourism product. The resort branded 'City of Dreams' will be one of a kind not only in the region but in Europe, and is expected to contribute €700 million per year to the Cypriot economy. The casino gaming area will span across 7,500 square meters with about 1,200 gaming machines and 140 tables. Over 9,600 square metres will be for convention, meeting and event spaces and 1,200 square metres of retail area replicating the feel of the old Nicosia city centre.
Connectivity is another key aspect of ensuring growth in this sector. Currently, 70 airlines fly from Cyprus to 40 countries and 120 destinations, with continuous efforts to open new routes. Passenger numbers in January-February 2019 increased by 7.6% compared to the corresponding period in 2018, while a record number of 11 million passengers were handled by the island's two international airports in 2018. To expand connectivity, the government together with airport operator Hermes is looking at ways to lobby foreign airlines to start operating more flights to Cyprus through incentives schemes – and increased competition could also help cut air fares to attract more tourists to the island.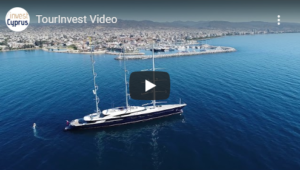 Supporting these impressive plans and developments has been the country's rapid return to a strong economic growth of almost 4%, partly thanks to tourism, and a renewed investor confidence that has resulted in significant FDI flowing into multiple sectors.
Opening New Markets
Although, the tourism sector has seen formidable development over the last years, there are challenges to overcome and Cyprus must diversify its target markets to reach its goals. The UK still constitutes the main source of tourism to Cyprus, with 1.33 million Brits visiting Cyprus in 2018, followed by Russia, Greece and Germany. March 2019 saw the first overall dip in arrivals since June 2015, which highlighted the issue to local authorities, who cited Brexit uncertainty and a sluggish German market coupled with German airline Germania going bust in 2019, as reasons for the downturn.
With key source markets facing problems on their home fronts, Cyprus officials are keenly aware that diversification is key to sustainability. Due to these issues and to attract the same number of visitors as last year, the prices of travel packages to Cyprus have also been slashed by up to 15%, with expectations that prices will drop further due to the Brexit extension – resulting in a drop in per capita spending as well. These factors will make 2019 a more challenging year for Cyprus tourism, and a trend that may well continue to 2020, at least where the UK market is concerned. This wake-up call has turned Cyprus' focus to opening new markets, such as the Middle East and other central and northern European countries, to cover the shortfall. Another target is to attract visitors from long-distance destinations such as the US, Canada, Korea, Japan and China, who are likely to travel in the wider region visiting more than one country during their holiday.
The Mediterranean Pull-Factor
Despite efforts to rebrand its image, there is no doubt a key element of Cyprus' winning package remains its ideal weather of 340 days of sunshine and its pristine beaches – which are consistently ranked as some of the best in Europe for their high environmental and quality standards. Cyprus has 65 Blue Flag beaches and one Blue Flag Marina, eco-labels awarded to beaches and marinas across the globe meeting certain standards. According to the European directive for the quality of bathing waters, Cyprus is also crowned amongst the countries with the cleanest bathing waters in Europe.
The Mediterranean lifestyle has not lost its appeal in the global tourism market, and with Cyprus refining its visitor experience by developing special interest areas such gastronomy, cultural, nautical and rural tourism – alongside its more luxury offering – the island is set to strengthen its status as a destination of choice for travellers of all budgets to experience authentic island life. Cyprus also boasts world-renowned archaeological sites, such as the ruins of the ancient city-kingdom of Kourion and the famous Paphos mosaics. In 2018, the Cyprus antiquities department announced that it would be collaborating with the Getty Conservation Institute in Los Angeles to look at better conservation management of the World Heritage sites of Nea Pafos and the Tombs of the Kings, and to find ways at improving the visitor experience at these sites – a move that has been welcomed by both tourism officials and tourists.
Cruising the Med
Cyprus is keen to bring back its glory days of being a cruise ship port and destination from which to explore the Eastern Mediterranean region. Traditionally, cruises from Cyprus were dubbed 'the trip to three continents' as ships would visit Lebanon, Israel, Egypt and Turkey passing through the Greek islands. Cruise tourism is certainly headed towards a revival with British operator giant TUI announcing 13 new destinations leaving from Limassol Port for the winter season 2019-20, which are expected to bring around 19,000 tourists to the island. Although many of the cruises follow the familiar Mediterranean formula, more far-flung routes have also been launched such as a sail from Barbados to Limassol. Supporting this maritime tourism renaissance in Cyprus was the opening of a new passenger terminal in 2018 by Limassol Port operator DP World, who is determined to increase passenger traffic of the port by 35%. Another key goal of the operator is to make Limassol a home port and an attractive choice for cruise companies in a bid to help Cyprus regain a leading role in Mediterranean cruise tourism.
Sporting for Prosperity
Cyprus has long been a popular winter training venue for international sports groups and athletes, as well as a destination for various sports events, ranging from rally to cycling and sailing. However, this niche area of tourism still has considerable growth potential if developed properly. The country's new Deputy Tourism Ministry has identified sports as an integral part of Cyprus' tourism product and is currently drafting new incentive schemes to attract more events, teams and athletes to the island. In 2018, Cyprus hosted 189 teams, with 4,500 athletes, totalling 40,000 overnight stays. The highest demand was recorded in the winter months between January and March. In 2019, Cyprus along with Greece, Lebanon, Egypt, Bulgaria and Portugal founded an International Sports and Tourism Organisation – which will be under the auspices of the World Tourism Organization of the United Nations – with the aim to promote global peace and prosperity through sports and tourism. Through this organisation Cyprus can also raise its image within these sectors through international cooperation.
Diving tourism is another area where growth is confidently predicted. An estimated 50,000 divers visit the island each year, many attracted by the opportunity to explore one of the top five dive sites in the world, the Swedish cargo vessel Zenobia, which sank off the coast of Larnaca in 1980. Cyprus is also creating more artificial diving reefs off the coasts of major tourist areas across the island to attract more divers. Golf tourism is growing steadily thanks to the island's four 18-hole international standard courses, with potentially more in the pipeline to establish the island as a year-round destination for golfers.
Island of Love
Renowned as the mythical birthplace of Aphrodite, the goddess of love, Cyprus has become a popular destination for wedding tourism, which contributes over €100 million a year to the economy. The number of foreign marriages is around 8,000 per year, of which the majority are from the UK market, followed by neighbouring Israel and Lebanon. Russia and the UAE constitute growing markets and efforts are underway to also promote Cyprus as a wedding destination in the Indian, Chinese and Japanese markets. The growing appeal of tying the knot in Cyprus is largely due to the availability of civil marriages. Across much of the Arab world – and Israel – a marriage ceremony has to be conducted within the context of a religious ceremony if it is to be legally recognised. This makes Cyprus an attractive wedding venue for mixed-faith and secular couples. Through weddings, Cyprus is also looking at opening new inroads into honeymoon tourism – a global market worth billions.
Medical and Wellness Tourism
Although still a budding sector, medical tourism is experiencing some growth due to Cyprus' world-class reputation for high-quality private healthcare in a technologically advanced environment. Cosmetic surgery, diagnostic tests and fertility treatment top the list as the most popular procedures for medical tourists from the UK, Germany, the Netherlands, Middle East and Russia. Health and wellbeing holidays are also on the rise, with the recent creation of several exclusive spa retreats to pamper the visitor, as well as a number of large-scale projects open for investment in the fields of rehabilitation and other wellness services.
In fact, the wellness segment has been identified as one of the key growth areas and FDI targets by the government, and the newly formed Tourism Ministry is placing strong focus on developing the segment further. These plans are perfectly aligned with global trends, as the wellness economy has seen tremendous growth of 6.4% annually. Now valued at US$4.2 trillion, wellness expenditure is now more than half of total global health expenditure, according to the Global Wellness Economy Monitor. The global wellness tourism market is worth over US$639 billion, while the European market accounts for US$211 billion.
The Backbone of Future Growth
Tourism has consistently been one of the most resilient of Cyprus' commercial sectors, and with further development of various niche areas, such as rural, health and wellbeing, maritime, cultural, conference, sports and wedding tourism, the country's vision for this sector is set to become a reality. The new national strategy for tourism is certain to bring profound results to keep the sector on its growth course for the next decades. Tourism-related real estate and infrastructure continues to be one of the most attractive investment opportunities in Cyprus, with a number of foreign investors closing multimillion-euro deals in the last five years and an influx of new five-star hotel projects set to materialise in the next few years.
However, to achieve its aim to attract high-spending visitors Cyprus must also focus on creating a richer holiday experience, and one that emphasises culture, indigenous heritage and natural environmental features – all reinforced by a high-quality hospitality industry. To diversify, Cyprus is actively targeting new markets and reassessing existing ones, but what is evident is that tourist numbers are on the rise. While Cyprus is certainly not turning its back on the traditional 'sun and sea' model, it is definitely moving to reposition itself in the global holiday market to provide a more diversified and ultimately more sustainable product.
For more information, contact Cyprus' investment promotion agency, Invest Cyprus.
All rights reserved. The material on this site may not be reproduced, distributed, transmitted, cached, or otherwise used, except with the prior written permission of CountryProfiler.
July 2019