Cyprus' efforts to keep its air connectivity alive through the pandemic have worked after the island registered the third lowest decrease in passenger flights in the European Union in December.
While airlines were scrapping routes due to COVID-19, the Mediterranean island ranked third lowest with a 9% decrease, behind Croatia and Greece, which recorded decreases of 6% and 8%, respectively.
According to Eurostat, in the last month of 2021, the number of passenger flights in the EU increased by 130% compared to 2020, although still below the levels observed before the coronavirus pandemic.
The Czech Republic and Austria were on the opposite side of the scale, recording the largest decrease in passenger flights in December with 41%.
Overall, compared to 2019, in 2021, the country that showed the most signs of recovery in terms of passenger flights was Greece with -29%, Cyprus and Luxembourg followed with -38 % and -39%, respectively.
Ireland recorded the slowest recovery with -64%, followed by Slovenia and the Czech Republic with -62%.
Welcoming the data, the Transport Ministry said Thursday: "It is an encouraging development for our country, as it seems that Cyprus remains close to its goal of gradually reaching pre-pandemic levels".
Cyprus introduced an incentive scheme for airlines that flew to the island with over 70% full planes.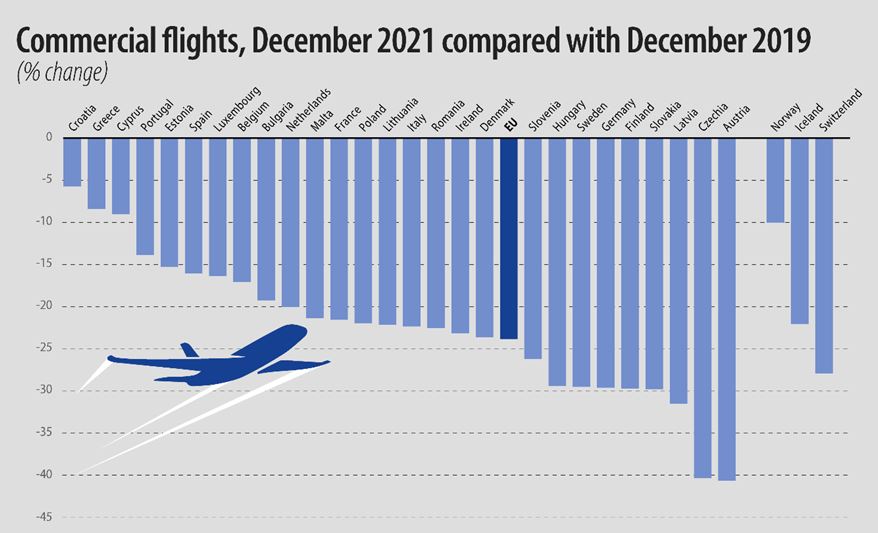 Source: Financial Mirror