Cypriot President Nicos Anastasiades has called on the new parliament after elections as well as industry leaders to support an ambitious €4.4 billion economic stimulus plan, saying it will lead the country into a new era.
Anastasiades unveiled on Monday the Republic of Cyprus' National Recovery Plan, a five-pronged plan he described as the "most ambitious ever" that is projected to add another 7% to the gross domestic product over the next five years and at least 11,000 new jobs.
"It is an ambitious yet realistic plan for not only rebooting the economy but also creating a new vision for our country that will be implemented thanks to the National Recovery and Resilience Plan we have put together," the president said.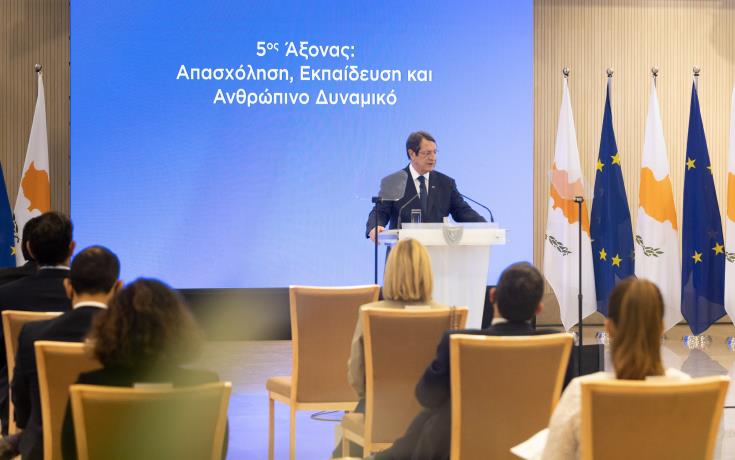 Anastasiades described the "Cyprus, Tomorrow" plan as a necessary development model for the future, calling it a "road map in the post-COVID era" that will allow the country to address the economic and social impact of the pandemic but also become "a step forward in the direction of a productive restructuring."
According to the resident, the plan would draw €1.2 billion from the EU-approved Recovery and Resilience program, €1.8 billion from the EU's Structural and Investment Funds, while a projected €1.4 billion would come from private investment or collaborations between the private and public sectors.
The plan includes 134 targeted measures, 58 reforms, and 76 projects in five broad areas, those of public health, green economy, competitiveness, digital economy, and human capital.
Bold plan needs bold action in new House
But the government will need enough votes to get the plan approved by the new parliament, a feat easier said than done as voters head to the polls on May 30.
Anastasiades has called on political parties and industry leaders, as well as the new composition of parliament, to come together and support "Cyprus, Tomorrow."
DIKO party head Nicholas Papadopoulos was quick to criticize Anastasiades, with the opposition leader saying the President ought to have started by apologizing to the Cypriot people.
"An apology, for mismanagement of the pandemic and a bad management of the economy by his administration, which has driven the economy, small and medium enterprises, and workers into paralysis," Papadopoulos said.
Other critics and political pundits on social media accused Anastasiades of waiting just before elections to announce the plan in order to score points with voters.
Cyprus' Finance Ministry announced that the Country's National Recovery Plan for the post covid-19 era was tabled to the European Commission on Monday, saying the proposal "is in line with the recommendations of the EU and complies with the long term police for resilient development of the economy."
Earlier this month, Finance Minister Constantinos Petrides called on Parliament to approve structural reforms that come as a condition to the disbursement of over €1 billion from the EU's Recovery and Resilience Fund.
Source: Knews